A great rv gift idea, when you want something unique and fun, is to have a photo puzzle made for the rving folks in your life. It can be an image of just the happy campers or even a picture of just their recreational vehicle!
We know these unconventional vagabonds have a lot of time on their hands - so why not give them something to do on a rainy day? Of course, cute puzzles would do the trick as well...but you're looking for a great rv gift, right? So look at the puzzle below, which will take you where you can simply upload an image and have a customized puzzle made in no time.
For the sentimental grandmas and grandpas who miss seeing the kids, why not make puzzles of the family and/or grandchildren for the rvers to enjoy when yearning to see loved ones while living on the road?
Obviously, there are many great ideas you may come up with when making a customized puzzle as an rv gift...so have fun creating it and know you are giving a great, personalized gift for the rvers.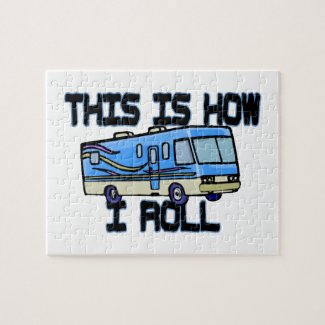 This Is How I Roll RV Puzzle
by
funnybizness
Look at other How i roll Puzzles at
zazzle.com